Audio-guided tastings
Are appetizers to taste with the palate, eyes, nose, fingertips, but also with ears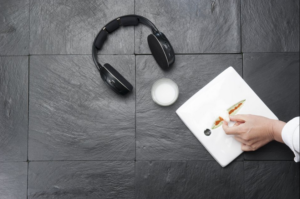 A bread and water
if a food lover can not appreciate the water, not be able to fully enjoy all the rest
Biancadolio
TASTING BITE AND SIMULTANEOUS CHANGING CONCENTRATION MEDITERRANEAN ADOPTION MULTIPLE
Background. The table is a coastal plain dotted with marshes (are placed on the table in front of each taster, cups full of cold water on which they float abundant basil leaves) Dip the hand that writes and brings food to the mouth nell'aromatica + antiseptic water Cup-marsh
The great return of Charles of Bourbon
It is transformed in the spirit of a taster of cheeses to savor the taste of buffalo mozzarella DOP
Travel in a dish
It starts from the volcanic stone that gives the character to the entire fertile Campania
The Charter Martial
It is a menu, is an illustrated booklet, is a collection of minimal stories. Stories of products and recipes, itineraries mental and physical.
The chef wanders
There are two types of cooks: the cooks and chefs-magicians-vagabonds.
Poverty and Nobility
A path gastromentale Toto has a gastronomic knowledge that comes from the bond still alive and active that existed between the citizen and the peasant culture.
The Convitato Land
Draft dinner with compost
I do not throw anything away is a beautiful statement. When Goethe visited Campania in 1787 he wrote that "the countryside surrounding Naples is all a huge garden
Ovomozzo
The egg is 70% water.
Hotei, god of joviality
Dishes of this dinner were born from a reflection on the seven gods of happiness in Buddhism and Shintoism.
Seven events of the Buddha himself, then a kind of catalog of actions beneficial or positive influences that can exercise universal wisdom. They are the gods of fortune, prosperity, health and longevity.
The first thing that came to my mind is the comparison between the gods and the foods we eat.
Or cunto â smerrza
Illustrious client, if you want, while you wait to taste the dishes with the senses that you have chosen, prepared with raw materials and products of our land, you can enjoy with your mind a traditional story typical of these parts, we have transcribed and reviewed our manner.
The story of waiting
The customer has just ordered the waiter chose foods that list printed on the menu.
Identity
This is my identity conventional. One with which I was invited to this congress (?) And also the one that is written on the doorbell of my house. But this identity is a pseudonym. As to each of you, maybe.
The Journey in Short
Dish. Surface on which things stop. Center. Plain.
Dish. Container, container, usually made of lands, where you need it and you eat the food.
Dish. Combination of food, agriculture manual, anthropological treatise.
The dish that the traveler is in front of a map.
The cartographer is the cook.
Pasta muzzarell and pummarol the Tzim Tzum
All that we need is love, empathy, understanding, sharing